50 Years of Sands Sprayers
One of the reasons we know your business so well is that it's our business too. The Sands family has been involved in farming for over 125 years, and still farms today. Sands Agricultural Machinery was founded in 1973 when Neal Sands decided to build exactly the machine he wanted for his contracting business that had developed from the farming operation, and when neighbouring farmers recognised the qualities of a machine built to precisely meet requirements, they asked if he would build sprayers for them too.
With farm sizes growing larger and crops requiring high clearance becoming more popular, Neal launched his manufacturing operation to the farming public at the Royal Norfolk Show in 1975, as demand began to boom for sprayers that could do more than the typical mounted and trailed machines of the time. Orders increased to the point where it was decided to establish a full-scale manufacturing operation, and the principle of building exactly what the customer requires still holds true at Sands today.
A digital vision of our new state-of-the-art manufacturing facility near Stalham Norfolk.
We have broken ground on our new state-of-the-art manufacturing facility near Stalham.
Sands has underlined its dedication to the future of farming and crop protection in two key ways. The first is family management continuity, ensuring that existing and potential customers can be assured of the company's commitment. Thomas Sands, Neal's son, joined the business in 2005, subsequently becoming a director alongside his father.
While the first mark of dedication is in the business's people – and in addition to senior management Sands is committed to training its employees and helping them to develop their skills – the second is in premises. Over time, Sands has developed manufacturing facilities that are a match for those of any other firm in the UK self-propelled sprayer business. Now, though, plans are underway for the development of a whole new manufacturing facility close to the existing Stalham site, in the most significant development in the business's history. More details will soon be available.
"We have been dealing with SAM Sprayers for nearly 30 years and they sure know how to look after us in Scotland! The Horizon model has taken our farm to another level with precision spraying and just loves eating up our very steep hills."
"Just finished an 18 hour stretch on the SAM Sprayer 36 mtr Horizon and I can honestly say if I didn't need to sleep, I could carry on and do another 18 hours. Cracking machine, a joy to operate."
"We are highly delighted with every aspect of our SAM Sprayer Horizon 5500, from the comfortable, ergonomic cab and the efficiencies afforded by a high capacity machine to the knowledge that, if required, we will get rapid, knowledgeable back up from the team in Norfolk. A truly fantastic all round package!"
"In upgrading our sprayer we found that the SAM Sprayer offered the better package given the wet spring. It has performed over expectation with a light footprint, tighter turning enabling us to travel when others have been struggling."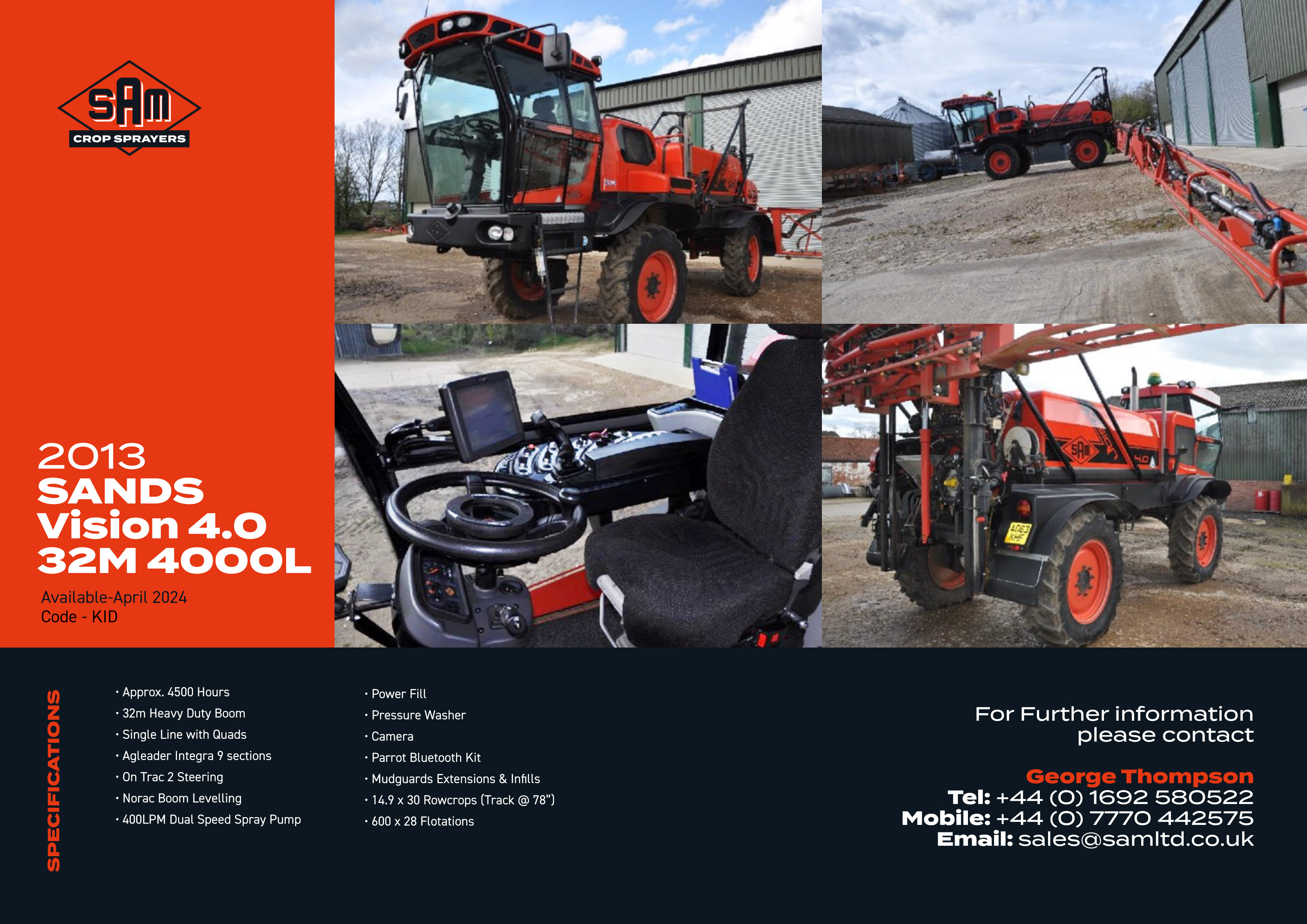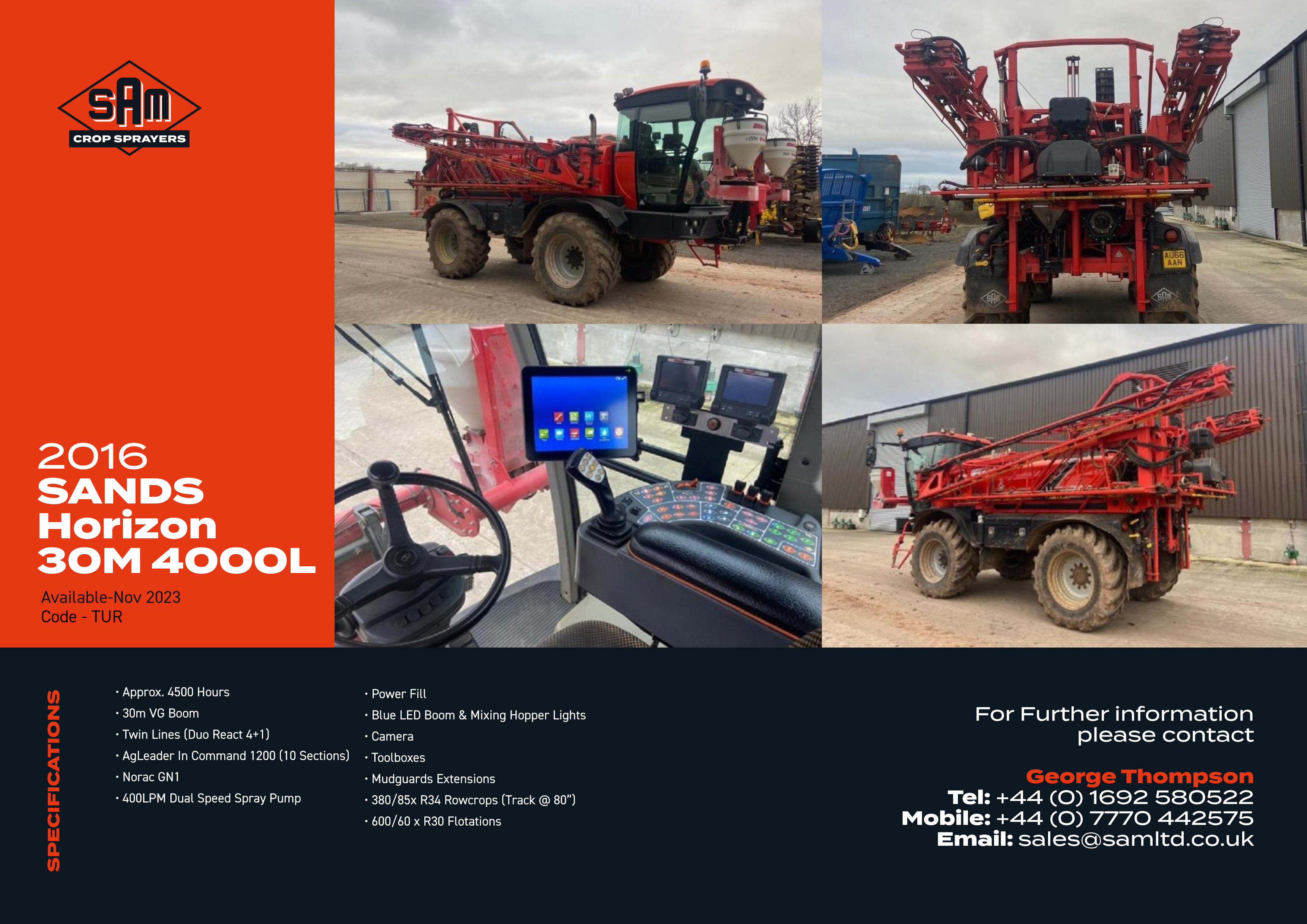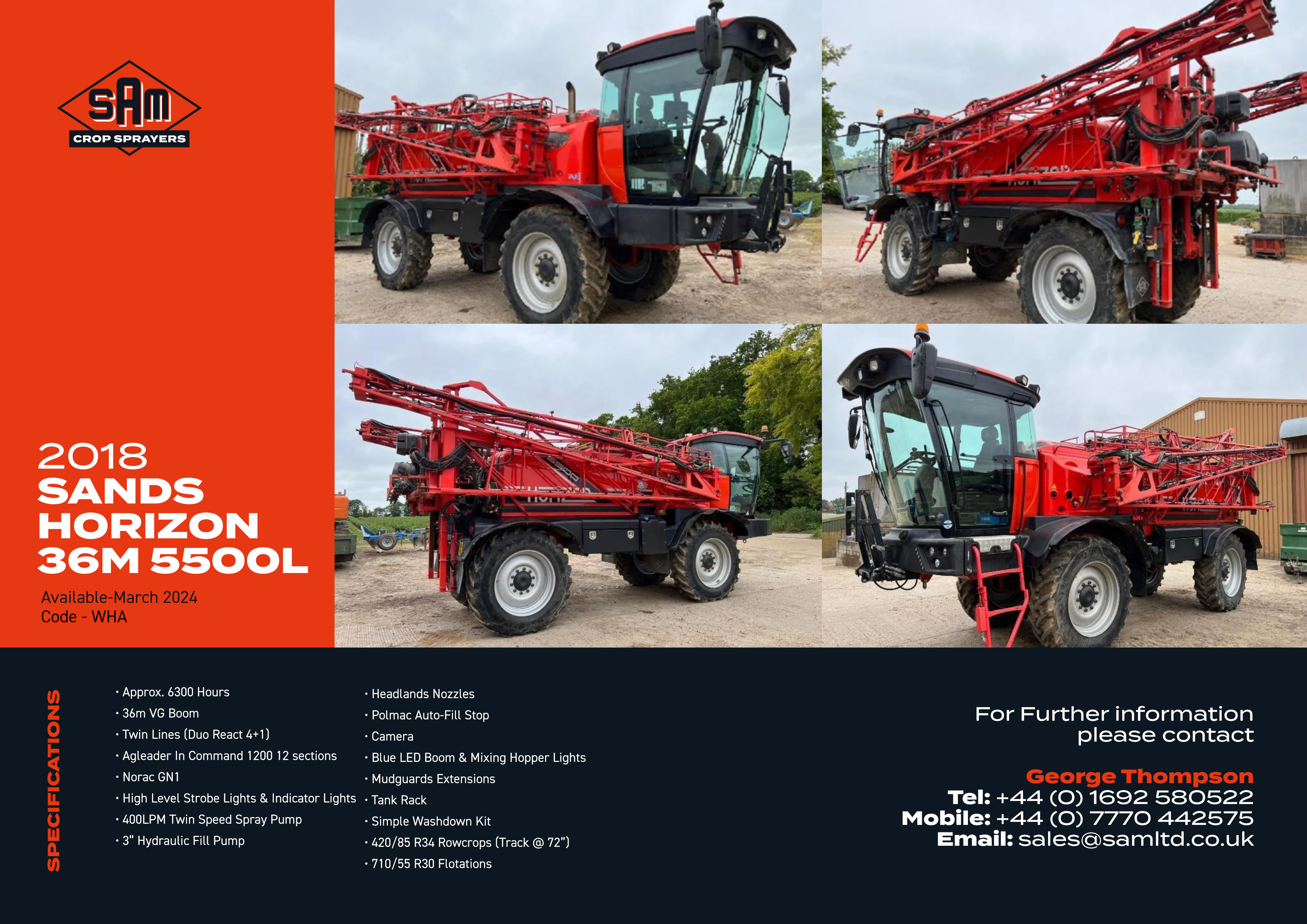 We are able to offer the following services:
Full national coverage from our depots in Stalham and Holbeach
Full daily cover by SAM trained technicians
Hydraulic Wheel Motor repairs
Full services to any type or make of sprayer
NSTS Sprayer Tests on farm or the SAM sites
Retro-fit GPS Systems and Boom Levelling
Any upgrades to suit you and your sprayer
Service all makes of pumps
Our Horizon
Self-Propelled Crop Sprayer Walk Around video
View all of the features of our newest models
Got a question about our Sprayers, Maintenance and Services?