BEST OF BOTH WORLDS
HIGH CAPACITY, LOWER WEIGHT
The Horizon 4000 is in the middle of our Horizon range and offers high spraying outputs with exceptional build quality and reliability.
The 4000 models benefit from having our unique Panoramic cab. Designed in house and built in Germany, this cab features the latest Category 4 filtration.
Comfort, visibility, build quality and ergonomics are to the highest standard and the impressive low noise levels take operator wellbeing to the next stage.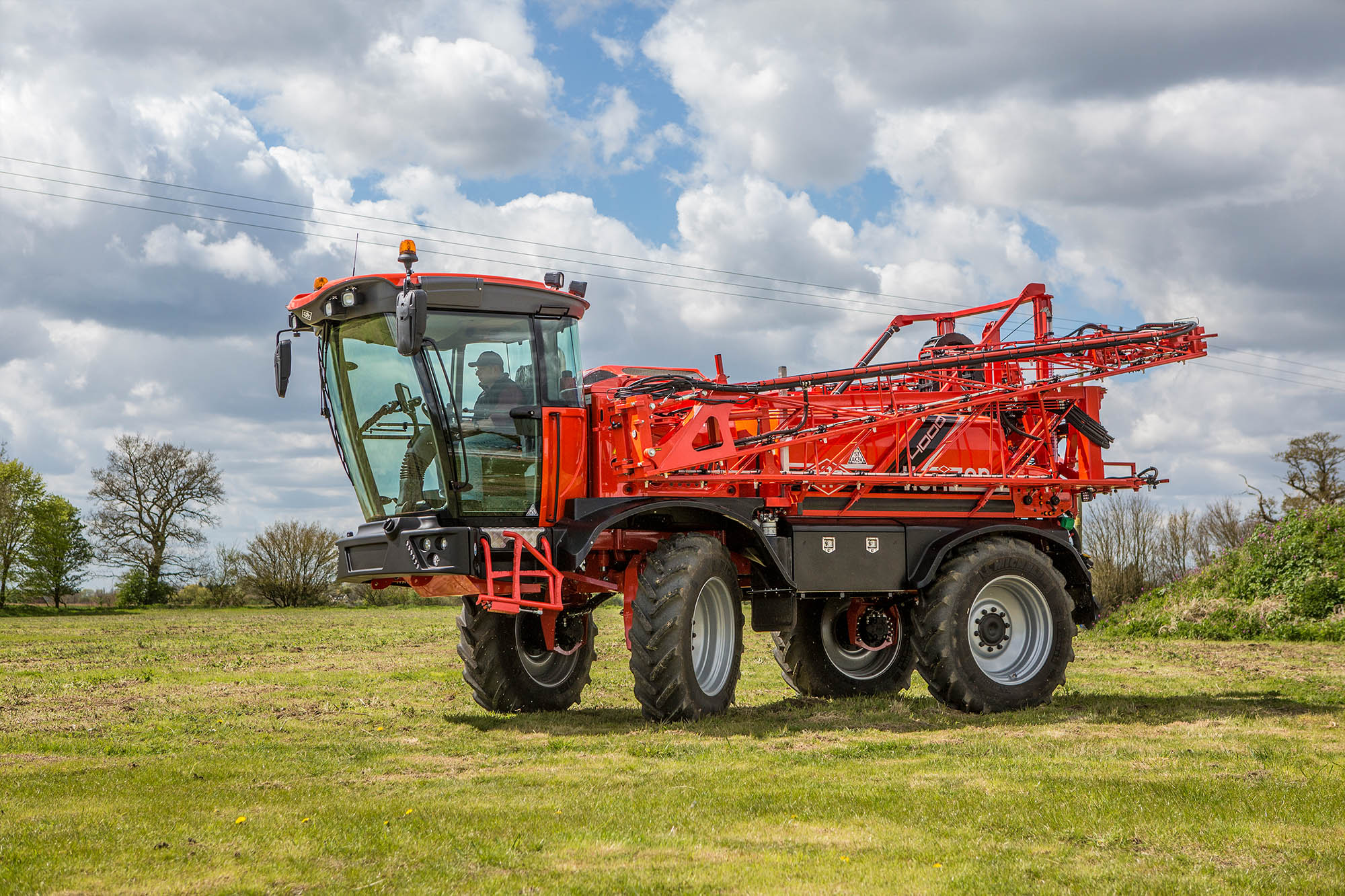 1
Tier 5 Final 6-cylinder water-cooled engine with Add Blue 160kw/214hp
2
Stainless steel 25 litre chemical induction hopper
4
Telescopic axles. 68-80 / 72-84 Manual Adjusting Sliding Axles
5
Fully hydrostatic 4-wheel drive with 4-speed transmission for high field torque & high road speed Poclain wheel motors
6
Spray Tank Size 4000 litres
7
Primary hydrostatic with dynamic braking & Boosted braking on the joystick
8
Suspension Self-levelling hydro-pneumatic suspension
10
Application Control Ag Leader, Trimble, TopCon, John Deere etc.
VEHICLE
ENGINE:  Tier 5 Final watercooled engine with Add Blue 160kw/214hp
TRANSMISSION:  Fully hydrostatic 4-wheel drive with 4-speed transmission for high field torque and high road speed.  Poclain wheel motors
BRAKING:  Primary hydrostatic with dynamic braking with foot pedal and boosted braking on the joystick
HYDRAULIC OIL TANK:  200 litres (High Grade HV 46)
STEERING:  Selectable 4-wheel steer on foot pedal with auto alignment
CHASSIS:  Welded hollow steel section
AXELS:  68" – 80", 72" – 84" (Mechanical) | Or 68" – 84" Full Hydraulic Sliding
SUSPENSION:  Self levelling hydro-pneumatic | Optional 'Dual Ride' facility for softer ride in the field
CAB:  High visibility, luxury cab with climate control, high back air seat, CD player, electric mirrors, carbon filtration
IN-CAB CONTROLS:  Steering column adjustable for height and angle.  Joystick control for forward/reverse, main on/off and control of boom sections and height, and selectable 4-wheel steer.  In cab control of clean water rinse tank (with standard pump only)
SPRAYING
SPRAY TANK SIZE:  4000 litres
WASH TANK:  300 litres (external) mounted over rear axle
PUMP:  Standard 6 cylinder 400l/min Dual Speed
FILTRATION:  Main suction filter with flushing pressure filter and nozzle filters
BOOM SIZE:  Standard 24m 2 stage gullwing | Optional VG Boom and up to 40m booms
SPRAYLINE:  Standard stainless steel 0.75in with Prime and Purge boom re-circulation.  Triplet nozzle bodies c/w 3 sets of spray tips (customer choice) | Optional Quad, Quin or Twin Lines (Hypro Duo-React)
SECTION CONTROLS:  Standard 7 sections
PLUMBING:  Twin rotary valves to control self-filling, spray, wash and pump out.  Stainless steel 25 litre chemical induction hopper | Optional Electronic Filling via internal/external screen with 3" plumbing.
MIN SPRAY HEIGHT:  0.6m
MAX SPRAY HEIGHT:  2.4m
APPLICATION CONTROL:  All GPS makes can be fitted, including Boom Levelling and PWM Systems
DIMENSIONS & WEIGHTS
WHEELBASE:  3.2m
TURNING CIRCLE:  7m
GROUND CLEARANCE:  1000mm
TYRES:  Standard 380/85 R34 | Optional 420/85 R34
FUEL TANK:  270 litres
MAX ROAD SPEED:  50 km/h
UNLADEN WEIGHT:  8.0 tonnes
OVERALL WIDTH:  2.9m
OVERALL LENGTH:  8.05m
OVERALL HEIGHT:  3.7m
The Horizon 4000 has replaced the renowned Vision 4000 and carries on its ability to offer a high capacity machine at a relatively low overall weight.  This allows it to tread lightly in damper conditions whilst still giving the performance required when spraying demands are at their highest.
Power is from the latest Deutz Tier 5 Final, 6-cylinder turbocharged engine with 214hp and driving through Poclain Boosted Braking wheel motors. These are now fitted with Hydrostatic & Boosted Braking on the front axle for improved stopping capabilities when travelling at high road speeds.  The use of Poclain's Smart Drive 'Easy' system now links engine rev's to hydraulic drive giving a smoother, quieter drive on the road with noticeably reduced fuel use.
All models benefit from a 'load sensed' hydraulic system which allows all operations to be carried out at low engine revs, reducing fuel usage and enabling swifter control of booms when spraying. It also allows a fast fill pump to be used in conjunction with the spray pump to give quicker filling whilst still being able to draw clean water through the induction hopper. Boom folding and unfolding is smooth and quick and enables booms to be folded in unison even on sloping ground.
'Dual-ride' suspension is a further development of our hydro-pneumatic system which offers the user a firm or soft ride. The firm setting is primarily for on road use to give a controlled feel at speed and softer when spraying in rough field conditions.
Booms up to 40m are available in either a rigid contour or our unique VG steel boom for boom levelling systems. Sands manufactured steel 3 fold boom sprays at 12, 24 and the wider width and can be fitted with the latest Hypro 'DuoReact' Twin Line nozzle bodies for use with fertiliser dribble bars.
Large Capacity Storage
A large-sized storage locker makes use of available space along the chassis
LCD in-Cab Display
NEED TO ADD DETAILS
Ergonomically Laid Out Controls
All the controls for the sprayer are laid out in an ergonomically postion.
Automatic Folding steps
Wide capacity steps which automatically fold down when the park brake is activated
Induction Hopper
Stainless steel 25-litre chemical induction hopper
GPS Guidance
We can fit GPS guidance systems from all leading manufacturers, including retrofitting farm-supplied units.